Getting your On Page SEO is the single most important asset in your overall SEO strategy. It's a real hit or miss show. On Page SEO is all about getting you a good head start compared to your competition. Getting this right means getting there first.
tl;dr go ahead check out our Rankshaper tool.
On Page SEO Factors
The most important On Page SEO Factors are basic and simple. These include your domain-name, nice urls, your page-description, your body (the actual content), the page-title and other headers. The golden SEO rule of keyword matching states that the more you make these match the keywords that you want to rank for, the higher you rank.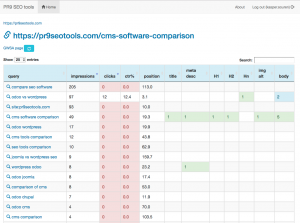 On-Page SEO Checklist
What does all of this mean in the most basic terms?
Well, first, let's say you want to rank for the term "Whatever works fine" and if your domain-name (your <url>) would match this term, you are one step beyond your competition.
Secondly, you want to title your main article the same: "Whatever works fine".
Thirdly, you want to make sure that this keyword of phrase is featured in the content (the <body> of the article) as well as in your sub-headers to match this keyword too. Concerning your sub-headers, aim for long-tail keywords, such as "Whatever works fine works for me" and write content around this long tail as well. This page you're reading right now is build up with that model in mind.

On Page SEO Guide
The hierarchy of your headers and sub-headers is equally important. You really want to have your page-title as the main header, and sub-headers with lower status. As such you can choose <H1> for your main title, and <H2> for your sub-headers. Other sub-headers on your site, such as widgets and info-boxes really should be having even lower sub-headers such as <H3> or lower.
There is one exception to this rule. If you have a website that you really want to rank for one main keyword, then match your site-title with that keywords and choose H1 for your site-title. Your page-title then becomes <H2> and your sub-headers <H3>. As such search engines will consider your website to be really about <site-title>.
Onpage SEO tools
There are quite a few tools out there that can do this work for you. These tools audit your on page SEO for you. We also provide one of those tools, albeit our SEO tool focuses more on action points for you. We offer immediate actions that you can apply on your website for example to start ranking for new keywords that you hadn't discovered yet, or to rank better for other keywords. We do not analyze your website if you actually have implemented the proper SEO Rules. For this we can recommend on of these tools:
To audit your website yourself, the easiest and fastest way to do that is to look at the source-code of your website. You can do this in any browser by right-clicking with your mouse-button, and click on source-code. Now you can search for "<h1" and "<h2" etc. to find out how your website hierarchy is made up.
If you are using a CMS such as WordPress, Drupal or Joomla, you often also have plugins you can use to change the hierarchy of your website. You can also easily add features such as nice-urls and SEO tools to change your site-title or page-description.
Rankshaper: onpage SEO tool
With the Rankshaper tool you can very easily optimize keywords that you're showing up for in Google's rankings. For each page you get a list of keywords that have given impressions or clicks and you see directly how these keywords are in the HTML of your page.